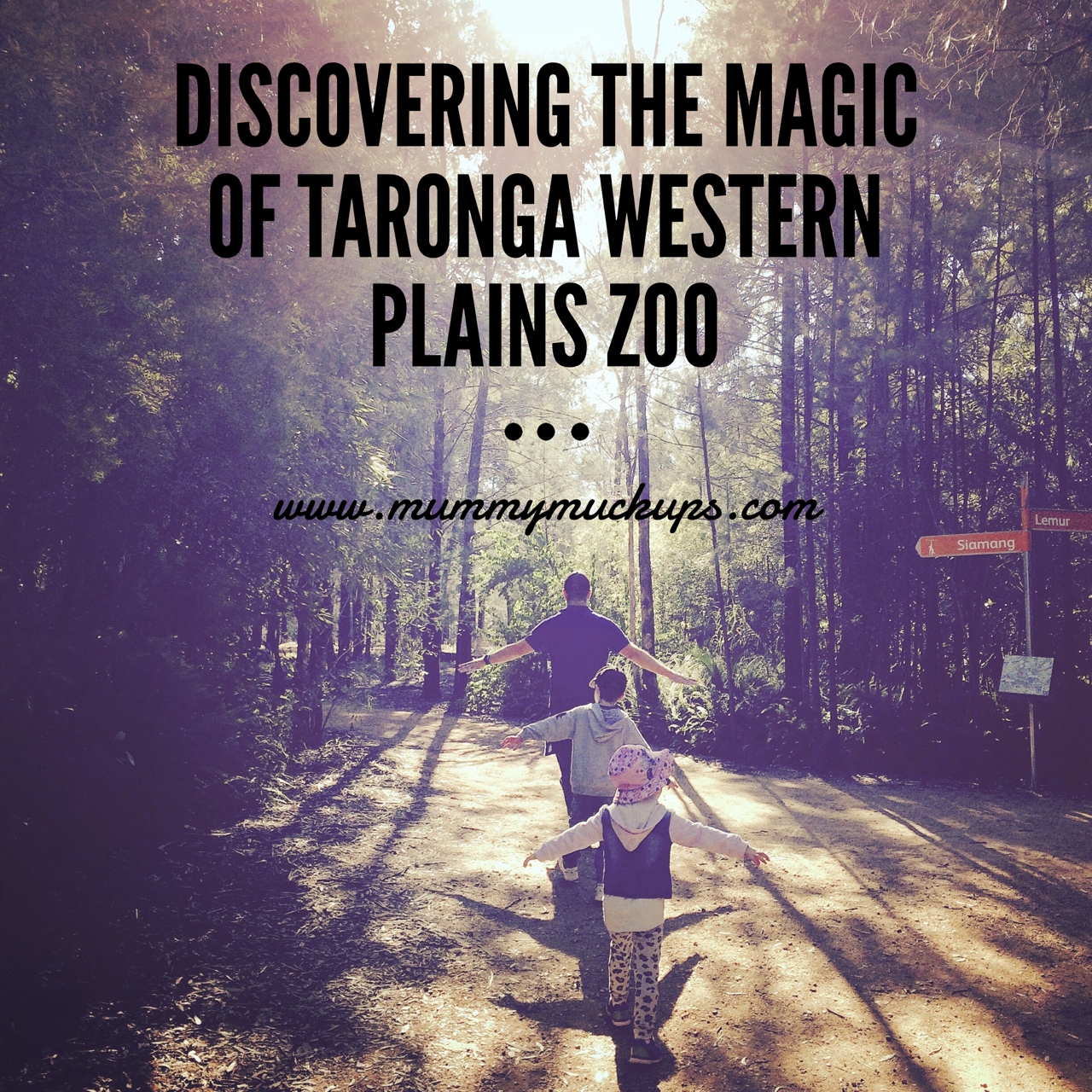 "S/he's looking out my window!"
"I can't reach my water bottle!"
"I've dropped teddy!"
And, of course, the classic…
"Are we there yet?"
Say what you want about fidget spinners, but they saved my sanity on our recent road trip to Dubbo.
Do you know how many renditions of, "We're goin' to the zoo…zoo…zoo. How about you…you…you?" you can sing in a 5-6 hour car trip? A lot.  A heck of a lot, I can tell you!
Mind you, the trip actually took us 6 1/2 hours with…well… kids…and toilet stops and playground breaks and the rest.
But was it worth it??
1000 times YES!!!
Despite the ridiculous amount of tiny teddies squashed in to every orifice of the back seat, I would do it again in a heartbeat. Hand on heart, it was one of the best family weekends of our life.
WE'RE GOIN' TO THE ZOO…ZOO…ZOO…
ABOUT TARONGA WESTERN PLAINS ZOO
We were incredibly lucky to be invited to the Taronga Western Plains Zoo in Dubbo, a wildlife park that really breaks down those 'caged animals' stigmas. Set on 300 hectares of land, the animals are displayed throughout wide open spaces, giving you the feeling that the African savannah has been delivered directly to you. This vast space also means that in many instances, you might find yourself alone, front and centre, watching something incredible like the Sumatran tiger feed – what a terrific experience this was for our kids (who have now joyfully [?!] reenacted this moment numerous times for us in our lounge room).
I had my Jurrasic Park moment as we drove in through the big gates at 9am Saturday morning. A family of 4 costs around $120, though do your maths as kids under 4 are free. This pass allows you entry across two consecutive days. Bonus, as you simply couldn't do it any other way and this is exceptional value when you consider the memories you are creating with your littles. Check out more rates here.
The zoo is open every day of the year and prides itself on its commitment to conservation and environmental sustainability.
HOW ABOUT YOU…YOU…YOU…?
OUR DAYS AT THE ZOO
I am a geek. I admit it. But I was certainly pleased that I had done my homework. I did not want to waste a minute working out where to go and what to do whilst we were actually there, nor could I with two of my own cheeky monkeys ready to make a dash for the nearest carnivore. Do get online here and check out your options. Print the map, look into the times of the Keeper Talks and work out how you will get around. We went the buggy option and whilst it does seem quite pricey at $69 for 3 hours, according to my kids, the new elephant calf only came a close second to the thrill of the cart. My husband gazed wistfully at everyone riding their bikes and I was impressed to learn that you could actually take your car in and drive around. The buggies do get taken pretty quickly, so make sure you get in early if you so choose (and make sure you utilise your time well; avoid wasting your 3 hour block over your lunchtime, for example.) Also consider the Safari Bus to get out amongst the animals on a 15 minute tour (loads running throughout the day).
I loved the clever way the zoo was set out. Mostly the keeper talks rolled on in tandem with the 6km circuit. One finished and we zoomed along to the next one. I was adamant to get along to as many of these as I could, because I believe these free talks gave us unique access to information, a greater appreciation of the animals and more insight in to the focus the zoo has on conservation. My highlight was the hippo and I was in awe of their jaws and horrified at how these seemingly big docile looking lumps were actually incredibly strong and dangerous.
There are also ticketed Animal Encounter experiences available. Book early or check the board on the day to see what's still available. So…big gulp from me…I actually got to feed a giraffe. At $7 a pop, this was affordable, yet absolutely priceless. Check it out here.  I'll just let my photos speak about this amazing moment.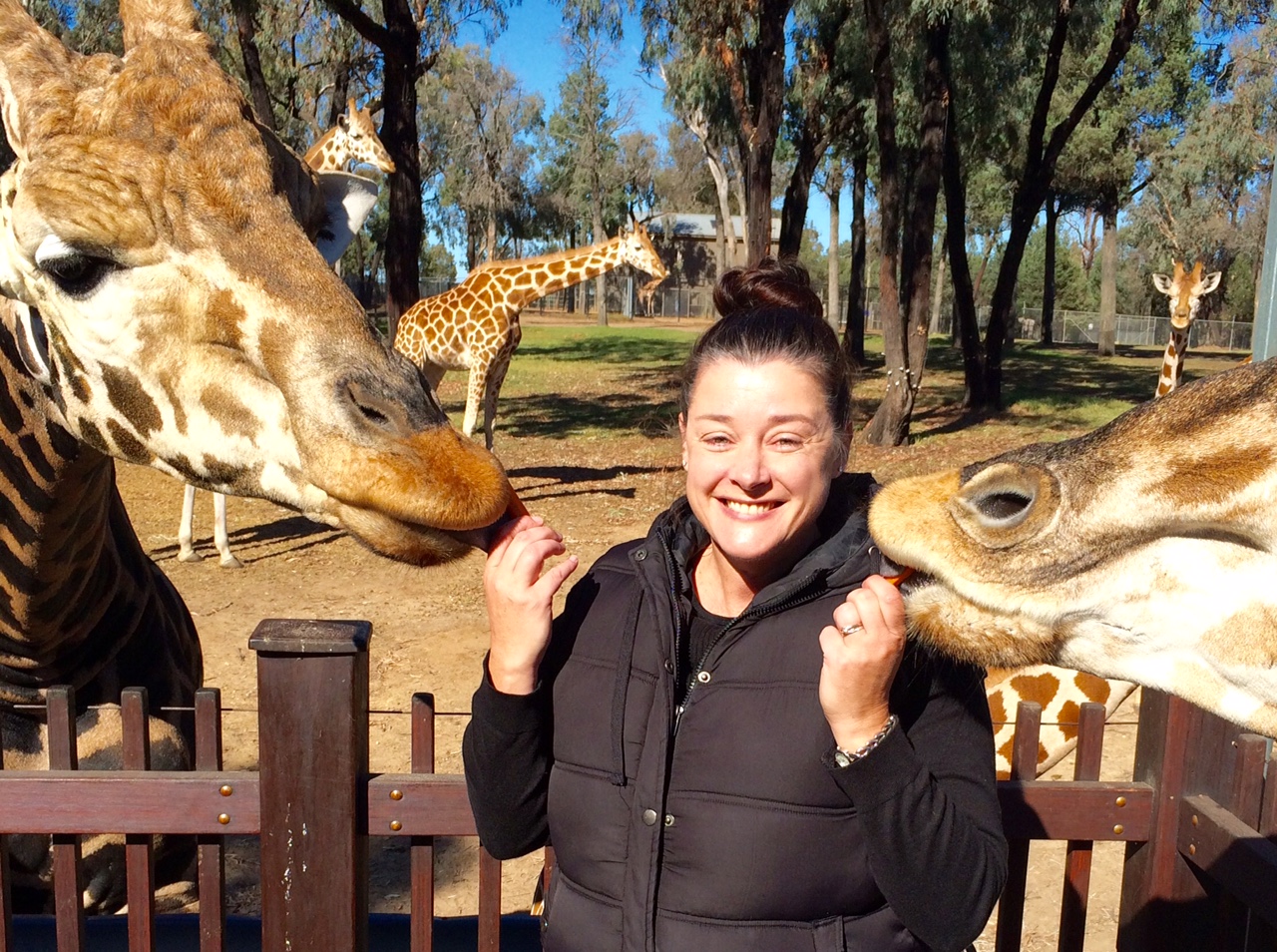 Of course lunch time coincided with the Streets Kiosk where we happily recharged. Yep; pricey, but no different from anywhere else.  Even so, there are so many incredible picnic spaces along the way and bringing your own food is a terrific way to keep your costs down. We were well stocked with snacks and drink bottles, and this proved really handy.
YOU CAN COME TOO…TOO…TOO…
PLANNING YOUR TRIP : ACCOMMODATION & THINGS TO DO
Have I convinced you yet?
Well here are some other things to consider.
We all took the Friday off and headed out of Sydney as the sun was rising over the Bridge; I hate to admit the husband was absolutely right in dragging us out of bed, as we beat the traffic and still got a full half day to explore the Dubbo township. We scored a gorgeous afternoon, so we headed for the Dubbo Regional Botanic Garden. Free entry, easy to find and loads for the kids to do. We did narrowly avoid a 3 year old diving for the giant koi fish, but the kids squealed and ran the car trip off as fast as their little legs would carry them. It was just what we all needed.
We booked a cheapy motel for the Friday night and there are loads of options in town. We took an easy walk out for our dinner and had the kids tucked up in bed early…and we weren't far behind them.
After our sensational day at the zoo, I was busting to head out to our accommodation. I loved that, despite all being pretty shattered, our day wasn't done and we were incredibly excited to head out to our home for the night.
There are 3 accommodation styles on offer at the zoo.
If you can, I do suggest you try some weekday prices, as they are worth a bit of coin.
The Billabong Camp is within the zoo grounds and is a permanent tent campsite. Tents are set up for you and your package can include tours and unique animal encounters…preferably not in your tent overnight. Sorry guys, but I am more the glamper these days.
The luxury style Zoofari Lodge looks beyond amazing and you might just wake up to a giraffe out your window. Big bucks, but depends what type of experience you are hoping for and it also includes lots of fabulous behind the scenes tours, meals and loads more.
We had a night booked at the Savannah Cabins which are set out in the rolling plains beside the zoo. They were quite flash two bedroom, two bathroom, fully self contained cabins, and we could see the giraffes in the distance. Do check out the very reasonable hamper and picnic pack options that you can pre-order and have delivered to your cabin; this would have saved the precious time the husband spent heading back in to Dubbo to stock up on food for dinner and breakfast. But, it did give the champagne time to cool and the kids and I had a great time to walk about as the sun began to go down on our magical day. Despite spending the day looking at so many magnificent animals, it was the native kangaroos that stole the show for our kids at dusk and sunrise. We couldn't wipe the silly grins off our face as the kids ran free, we sipped a cheeky and the BBQ sizzled.
BUT do bring your warm clothes; it sure gets chilly once the sun goes down. Our star gazing was very short lived. Check out my Facebook Live tour (my very first one ever, so be kind).
We honestly planned to get up on the Sunday morning and get going, given the long trek ahead, but we just couldn't. I wanted to get back in to the zoo and it was brilliant to skip the queue and just drive on through (do NOT lose your tickets). It was so quiet and gave us the chance to see some of the animals who were hiding on us the day before. I desperately wanted to see the lion cubs again and they didn't disappoint as they annoyed their dad to come play; my husband was impressed by the stern 'talk to the tail' manoeuvre which shut them down pretty fast. A 'quick' coffee at the Bakhitas's Cafe turned in to another long session as we couldn't drag our eyes off the Spider Monkeys skipping around over the other side of the lake.
WE'RE GOIN' TO THE ZOO…ZOO…ZOO…
WRAP UP
What a discovery!
We absolutely loved our time in Dubbo and I definitely recommend a visit. Save your moula, plan it well and make it a memory to last a lifetime.
Such a huge thanks to the team at Taronga for extending an invitation to Daddy and Mummy Muckups and our own two cheeky monkeys, to come visit their zoo. Also grateful for the fact that you aren't forced to walk through the gift store to exit; this can be HELL, as any parent with tired, yet excitable kids, will fully understand.
Our zoo trip has already featured in my son's classroom 'talk time' and my daughter has been sleeping with her zoo map on her bedside table with her 'treasures'.
Taronga Western Plains Zoo was a magical experience that our family will continue to talk about forever.
For more information, click here.
All prices quoted are correct at the time of publication. Do check the website to confirm.
I was gifted an accommodation package by the zoo, but this is my blog and my opinions. This place is an absolute rooftop screamer and it was an incredible weekend!