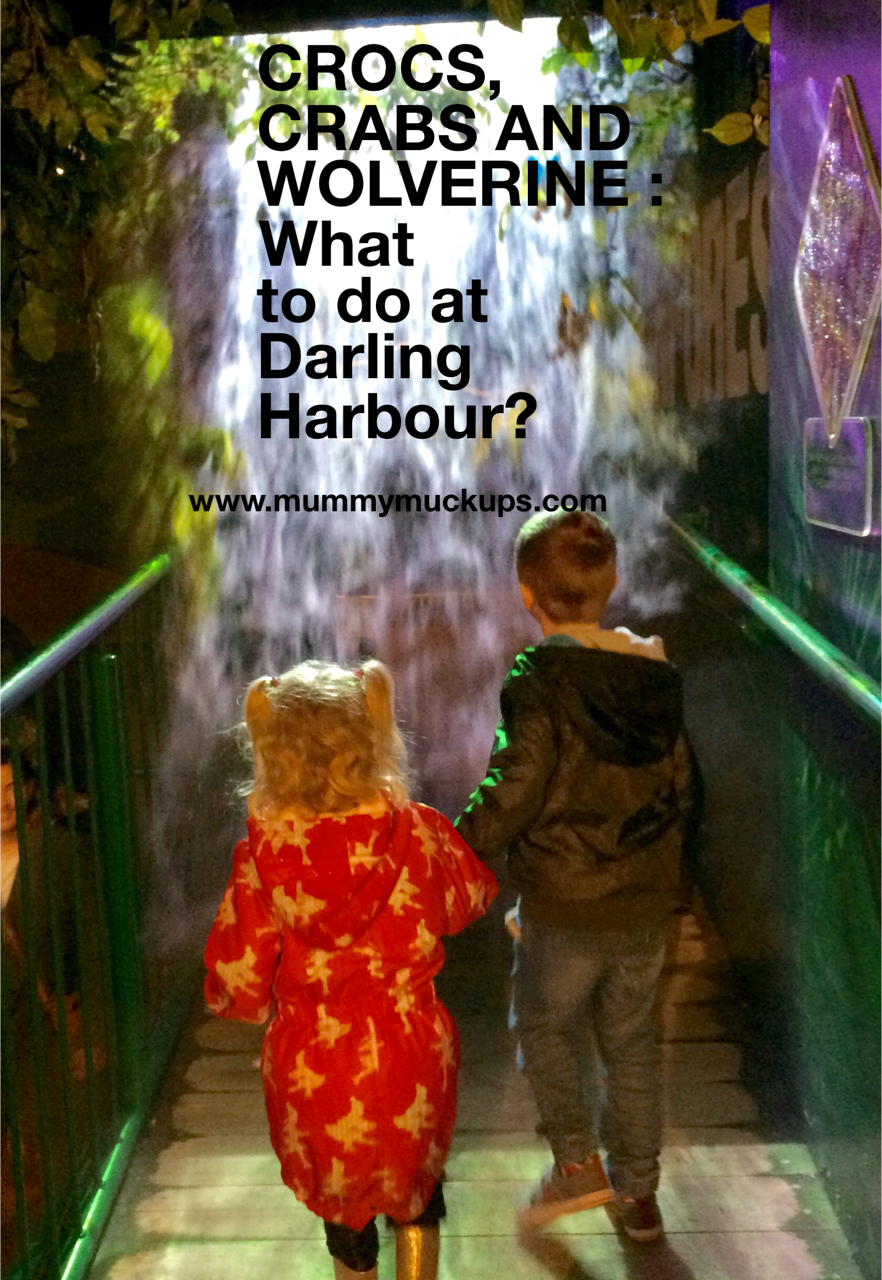 Did you know there is an actual zoo at Darling Harbour?
Fact.
Did you know that you can ride through snow to visit a penguin colony at Darling Harbour?
Fact.
Did you know that you can actually touch and interact with the the wax statues at Madame Tussauds at Darling Harbour?
Fact (…my kids really gave this one a good work out…I promise you).
With the recent school holidays, I needed to plan some days out to keep the wreckers active and interested. And truth be told, I wanted in on the action, too. Something we could all enjoy. Enter the gorgeous team at Merlin Entertainment, who provided my kids (aged 5 & 3) and I (ageing gracefully, thank you very much) with passes to see my 'big three'; Sea Life Sydney Aquarium, Wild Life Sydney and Madame Tussauds Sydney. Just to be clear, the same company owns these attractions and they provide cheaper, package deals if you buy passes for more than one attraction. If you plan to be around Sydney for a few days, buying a combination deal is a great way to tick all the boxes.
SEA LIFE SYDNEY AQUARIUM
Our first visit was to Sea Life and the kids were reciting lines from Nemo faster than the queue was moving. Straight off the blocks, as mentioned earlier, DO buy your tickets on-line so you can slot straight in to the fast track line. Get your phone out and get ready to be snap happy; there is so much to see. The kids loved the simple things where they could get their hands dirty; digging for fossils in the sand, smelling the dugongs breath and the Discovery Rock Pool. My brave little one was not quite so brave when she discovered the starfish she was touching was actually a living creature.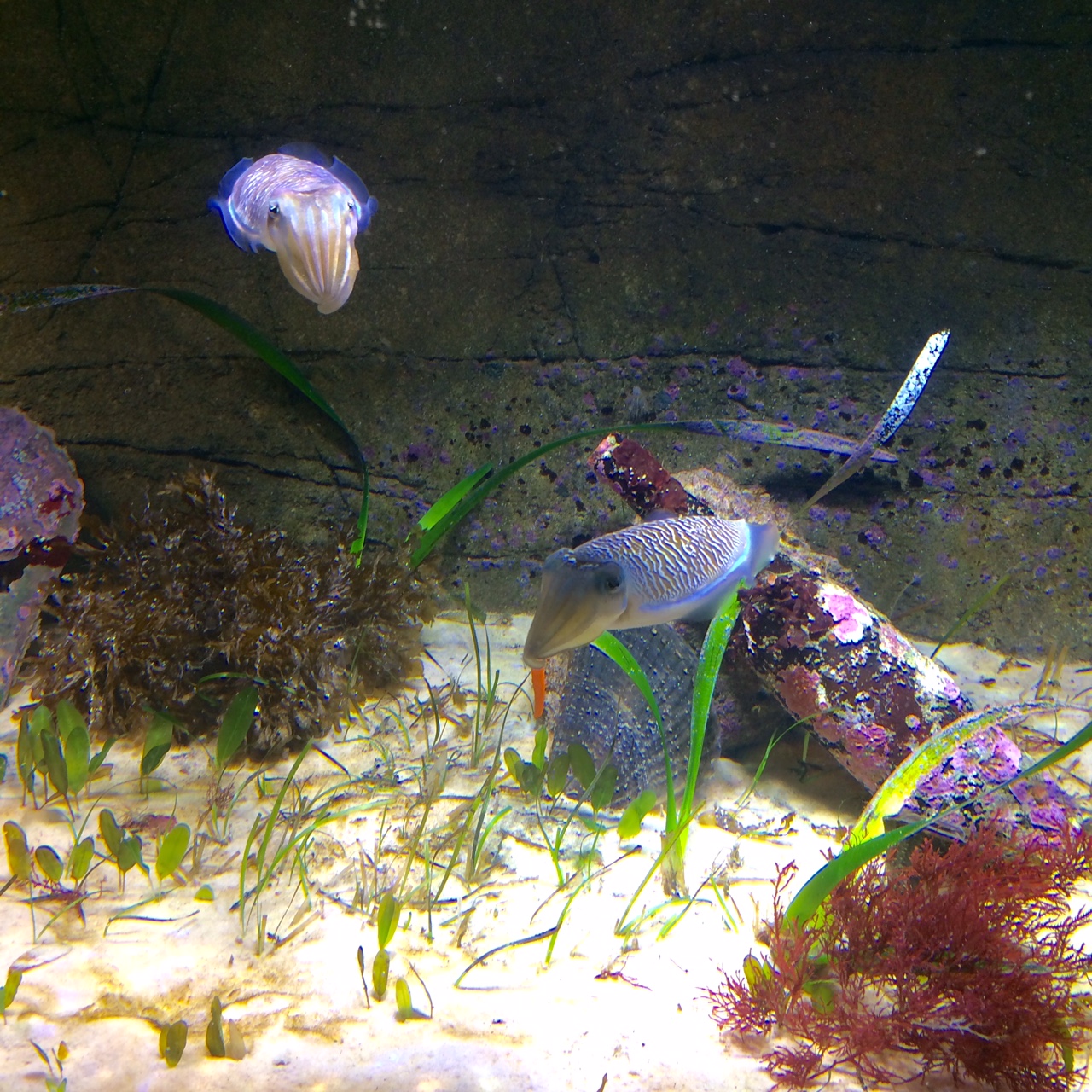 We were all fans of the Penguin Expedition. The boat trip, snow and the water felt so real, my littles actually thought we had truly travelled to Penguin Island, and worried about how we were going to get back. This is no extra cost and absolutely worth doing. The sharks were also show stoppers and walking through the tunnel with these bad boys and their sting ray mates sliding overhead was quite surreal. The kids just didn't quite know which way to look.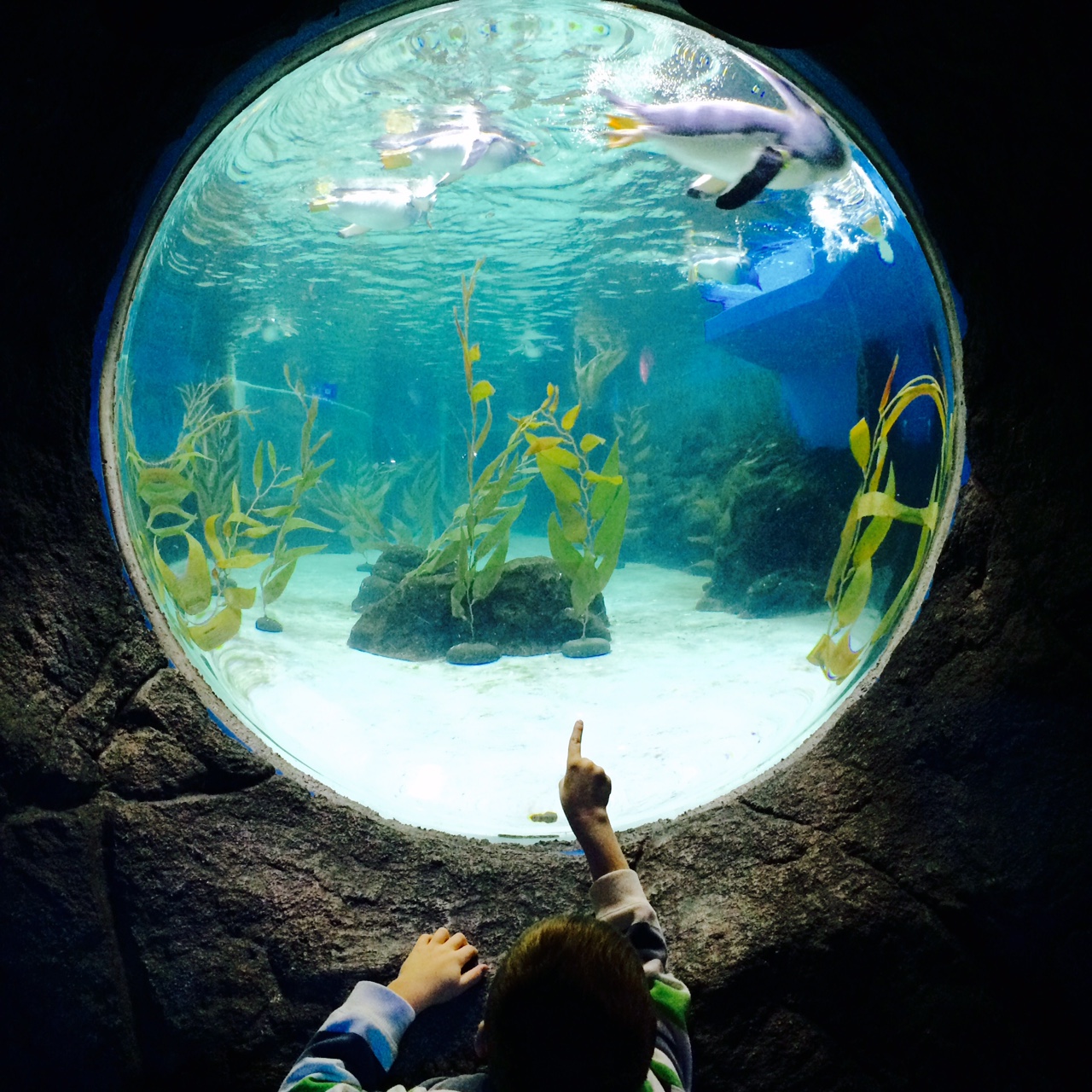 There are a few talks on offer, so keep an eye on your brochure and we allowed about 2 hours to take it all in. I am sure this could be stretched out with older kids, but mine kept charging to the next thing and the next thing in their blaze of joy. Exit through the gift shop (gawd blimey) and consider whether you plan to purchase your photo packages that they took upon your entry.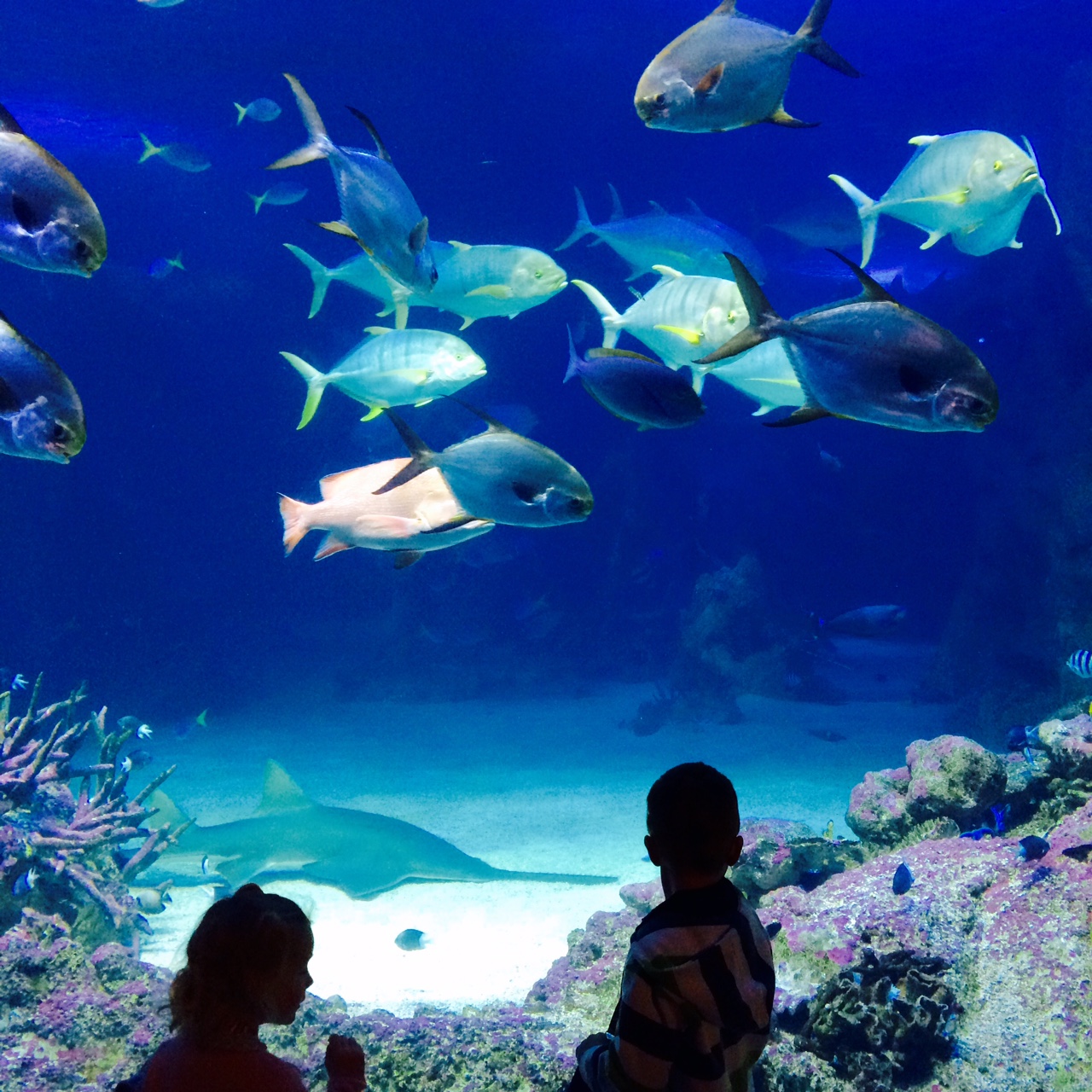 MADAME TUSSAUDS SYDNEY
After a quick lunch break strolling about the stunning boardwalk of Darling Harbour (who am I kidding? More like 'tearing wildly' around Darling Harbour whilst I squawked, "Don't go near the water!!!!"), we headed back to the Wax Museum. OK; so I thought this would be a struggle given the age of my kids, but thankfully I was completely wrong. Firstly, this not the old school museum 'be quiet and do NOT touch anything' style. In fact, you are encouraged to dress up, to surf, play instruments and interact with the exhibits. And my kids certainly did that; what a relief to let them play wildly (But Curtis Stone…your boundaries were pushed by the wee one and I am so pleased you still have those glorious hands to cook with…). They may have had absolutely no idea who the historic figures were, but that didn't dampen their enthusiasm. My 3 year old was absolutely enthralled and gazed up at them all in awe; still not quite believing they weren't real.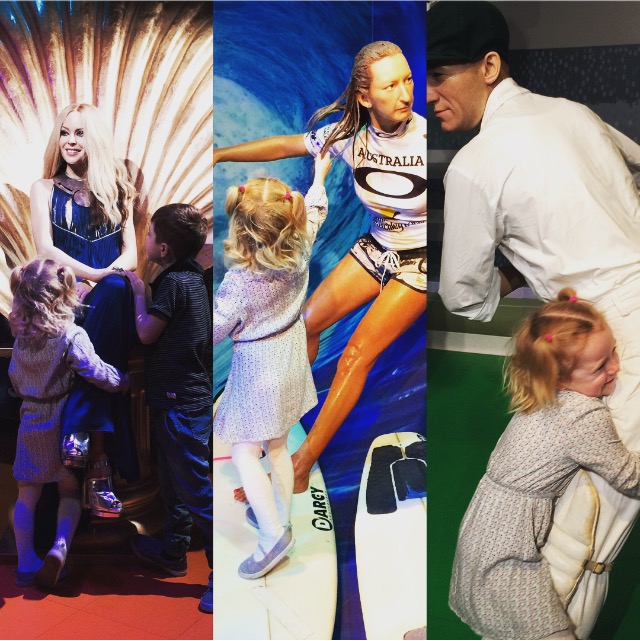 Their Fashion room had some great ideas;  in particular, I cannot think why Cosmo magazine has not come looking for me for a front cover shoot already. My two gave the cat walk a red hot go, and pulled out some 'blue steel' moves and twirls that I never knew was in them. Megan Gale was rendered frozen in awe! Of course the Marvel (superhero) room was a big hit and finally Hugh (Wolverine) and I had our moment. The kids partied hard with the Rockstars and I loved some old favourites in the TV Studios.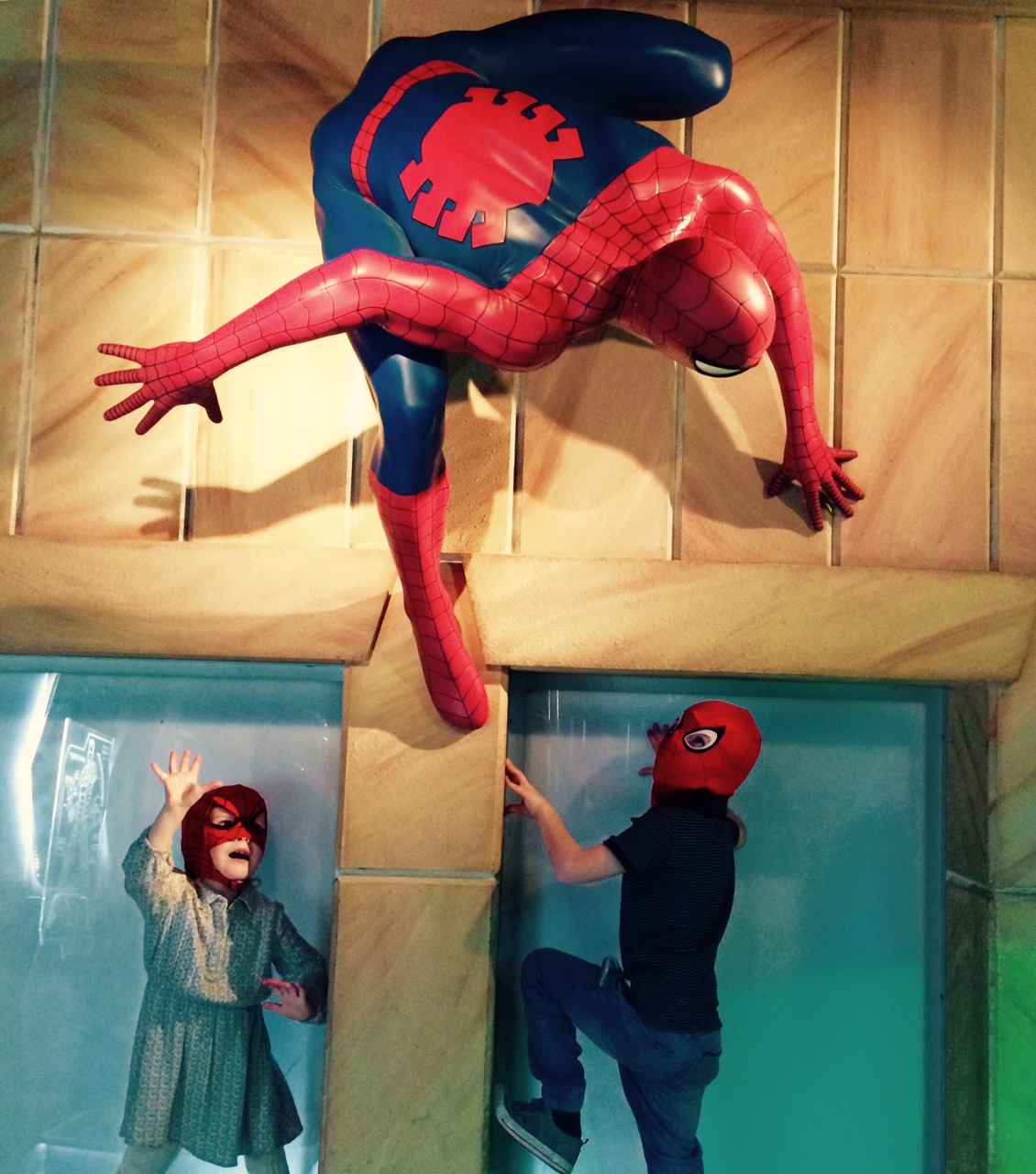 My only complaint was that I couldn't get any photos of myself. I am a couple of years shy of having a photo taken by my son that is not blurry and includes everyone's head. Sorry Brad.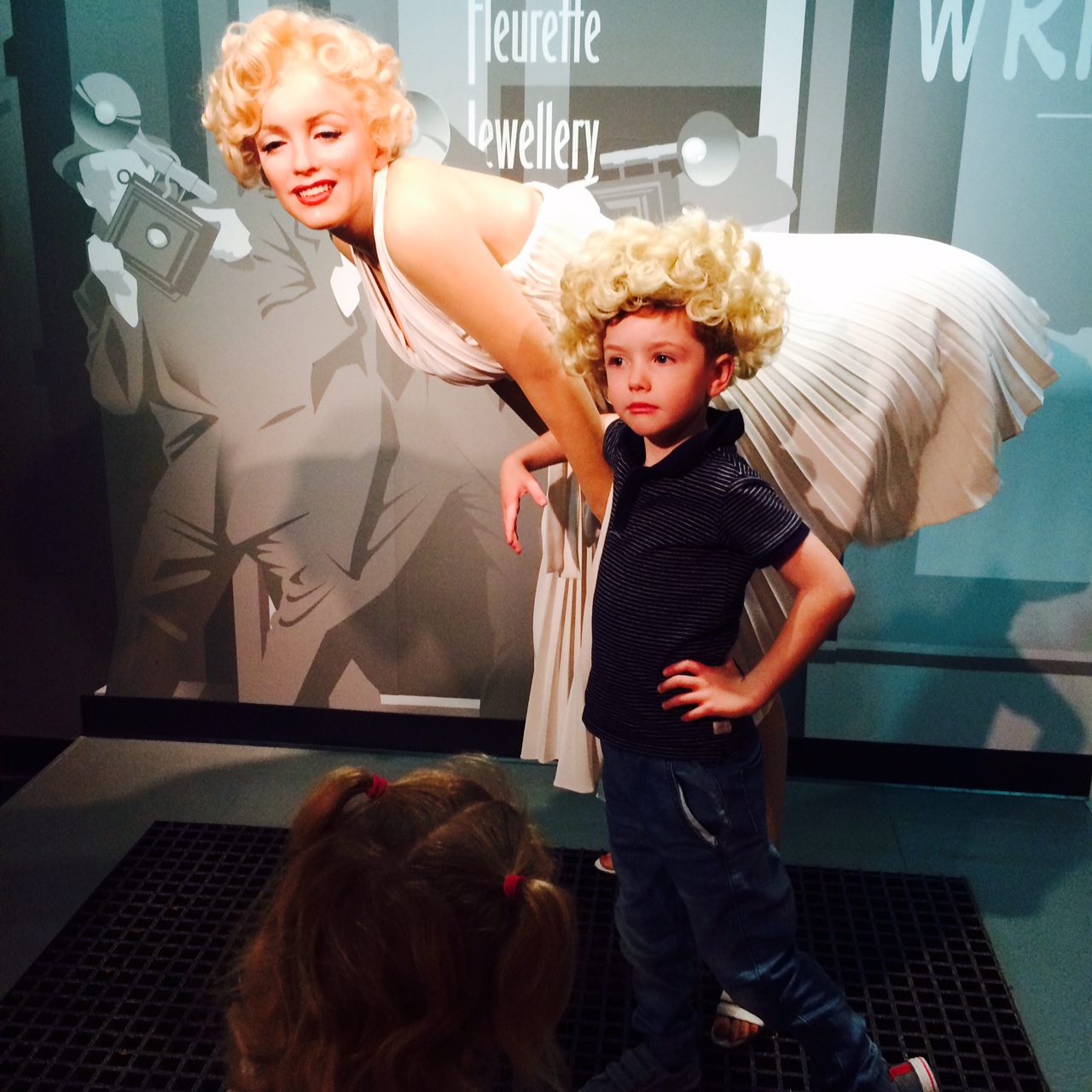 WILD LIFE SYDNEY ZOO
How?
How do they fit a zoo here on the Harbour? I still cannot answer this, but I promise you it is there. We allowed ourselves a whole day here; my kids love animals, but we loaded up with raincoats and umbrellas when the day turned black with heavy rain. Luckily for us, this turned out to be a perfect place on a rainy day. The zoo is styled in a similar manner to the aquarium, in that you wander the enclosed levels looking out into the exhibits. Packed with loads of native Australian animals, it is the perfect place to load up on koalas, wallabies and snakes. The show stopper has to be the massive croc, Rocky, and I held my breath as we stood in the plastic bubble and stared into his eyes. Every little ripple of his body and I was ready to croc wrestle, but luckily it is all extremely safe.
Another highlight was Ringo the wombat. Who knew these big cuddly balls could be so incredibly strong, fast and dangerous? We donated our gold coins for the chance to pat Ringo's big, broad rump; so NO…whilst it may look like I am feeding my kids to the wombat, it was a very safely monitored up close experience.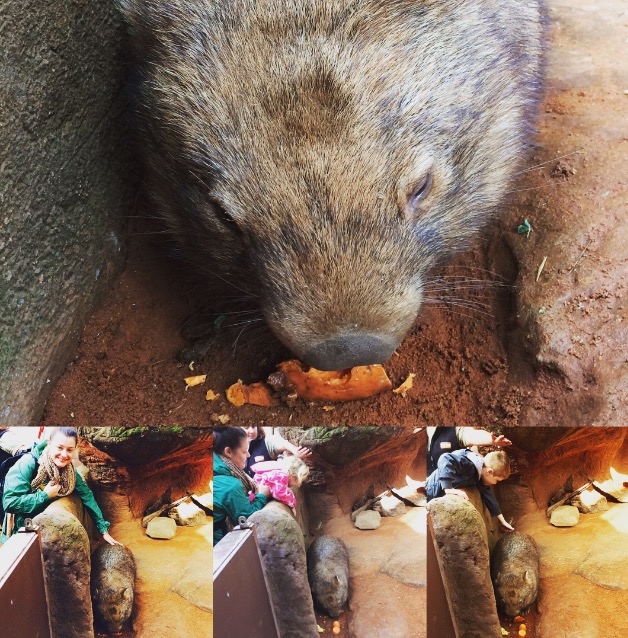 The Koala Rooftop was a fabulous find and you can pay to have your photos taken in the enclosure. My kids were treated to story time and a visit from a massive stick insect (behold my son's beating heart!), and some pretty sensational hot chips at the cafe to get their little legs recharged. Keep an eye out for the keeper talk and feeding times, as this will add to your experience.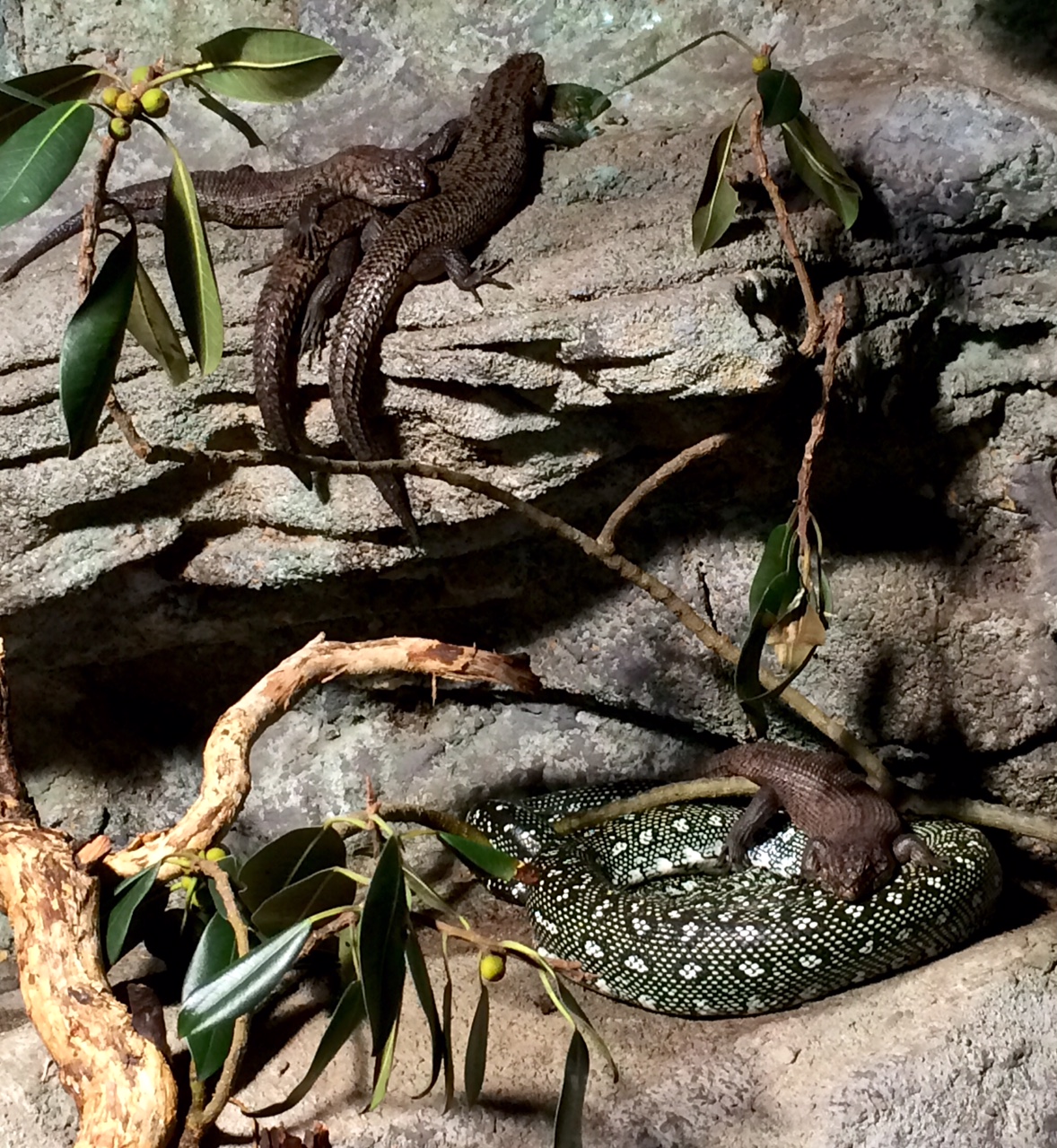 Exhausted.
Tired little legs can barely take another step.
Well…mine, anyway. Pity I had to carry my three year old off the bus for the walk home two days running.
Get online at any of these attractions and check out the prices and what you want to do. Do your homework, plan your days and make sure your phone is fully charged with enough storage for a ridiculous amount of photos.
ABSOLUTELY WORTH IT.
Fact.
For prices and more information, be sure to google : www.merlinattractions.com.au
I was invited to visit these attractions with my kids, and despite not mentioning the spot of kid wrestling on the Koala rooftop, my review is sincere and all my own opinion.