The second biggest crowd splitters behind the "Thermomix revolutionaries" are "The Campers".
You see, some people are truly wired for this camping gig. You are either a camper, or you are not.
I always head off with high hopes, believing that this time it will be different, but I am still not a camper. Although, in my defence, I am not completely pathetic. I can handle a tent…in a camp ground…with hot showers, a cafe in walking distance and the nearby drone of traffic/civilisation…if I have to. But bush camping with wild animals and no power? Why? Just…why?
Maybe it's the 14 loads of washing left for me to plough through at the end, maybe it's the soggy, camembert cheese that has been foolishly wasted at the bottom of the esky, or maybe it's the smell of smoke that I just cannot wash out of my hair, but I am always desperate to return home to walls, a steaming shower and fresh clothes.
So for those of you who are 'in my camp' so to speak, I have put together a little survival guide about the truth behind the 'great outdoors.' Please feel free to refer to it the the next time you are guilted into believing the fresh air, great outdoors and hiking is exactly what you need to 'relax'.
Long life milk is, and always will be, revolting. I know it 'apparently' basically tastes exactly the same (though the 6 year old detected and rejected it), but if I know it's out of the carton that has sat forever on a supermarket shelf; it ain't milk.
I love the fervent competition to leave the city behind and just go with being minimalists. Oh, but the 'how big's your burner' dance, and all the camping gadgets that go along with this are ah-mazing. It kind of defeats the purpose of sleeping outside without all the mod cons….except apparently it's OK if you've replicated this with stuff bought from a camping store. That makes it fully legit.
Fresh air is great. Exercise is terrific. Tiring the kids out is essential. I love walking. But I am not really a fan of trying stuff off the beaten track. Taking 'calculated risks' is not really for me, especially with the kids in tow.
Don't forget; an unpowered site equals no wifi, AND no charger.
Your feet, your kids feet and the floor of your tent will be filthy for the entire trip. Just accept it and move along….(or constantly use wet wipes like I did).
There is an element of magic in toasting marshmallows. The kids can busy themselves finding sticks, cook it themselves, and the sugary hit is delish. But the actual cooking of real meals on a fire is not one of my strengths. Even toast is hard work; I inevitably burn it. So how does everyone else seems to pull off some MKR extravaganza with just a pot and a fire?
This is not a drill; there are snakes and spiders and foxes in the bush. If you think you can hear something sniffing around your tent in the dead of night, it is likely to be a real life wild animal.
Hot tip; ice melts in an esky. Everything will become waterlogged early on day 2.
Running hot water is a delight. Being able to wash your dishes in a shared sink is a huge help, but beware of  the flies and the gag worthy remnants of the last persons spag bol in the plug hole.
Apparently you are incredibly fortunate to camp in the bush and have hot showers. Quite deluxe even, but I still came out feeling dirty after wearing thongs and trying not to look at the dark, coarse hair blocking the drain.
It is essential to have a drink holder in your fold out chair. This is crucial if you are the one going in and out of the tent settling the over tired kids. Also, a classy, plastic wine glass almost makes you feel like you're at home. Almost.
I love the romance of the open fire. Until the smoke begins to follow you like a stalker, regardless of how many times you move your chair.
Oh I was ready for home and a dishwasher and clean sheets and leave in hair conditioner and a fridge and so much more. Camping really does remind you of just how fortunate you are. I just don't think I need this reminder too often.
Over the Australia Day long weekend our family went camping, and I met a man who forgot his tent along with anything to sleep on.
Now this, hands down, won the weekend for me.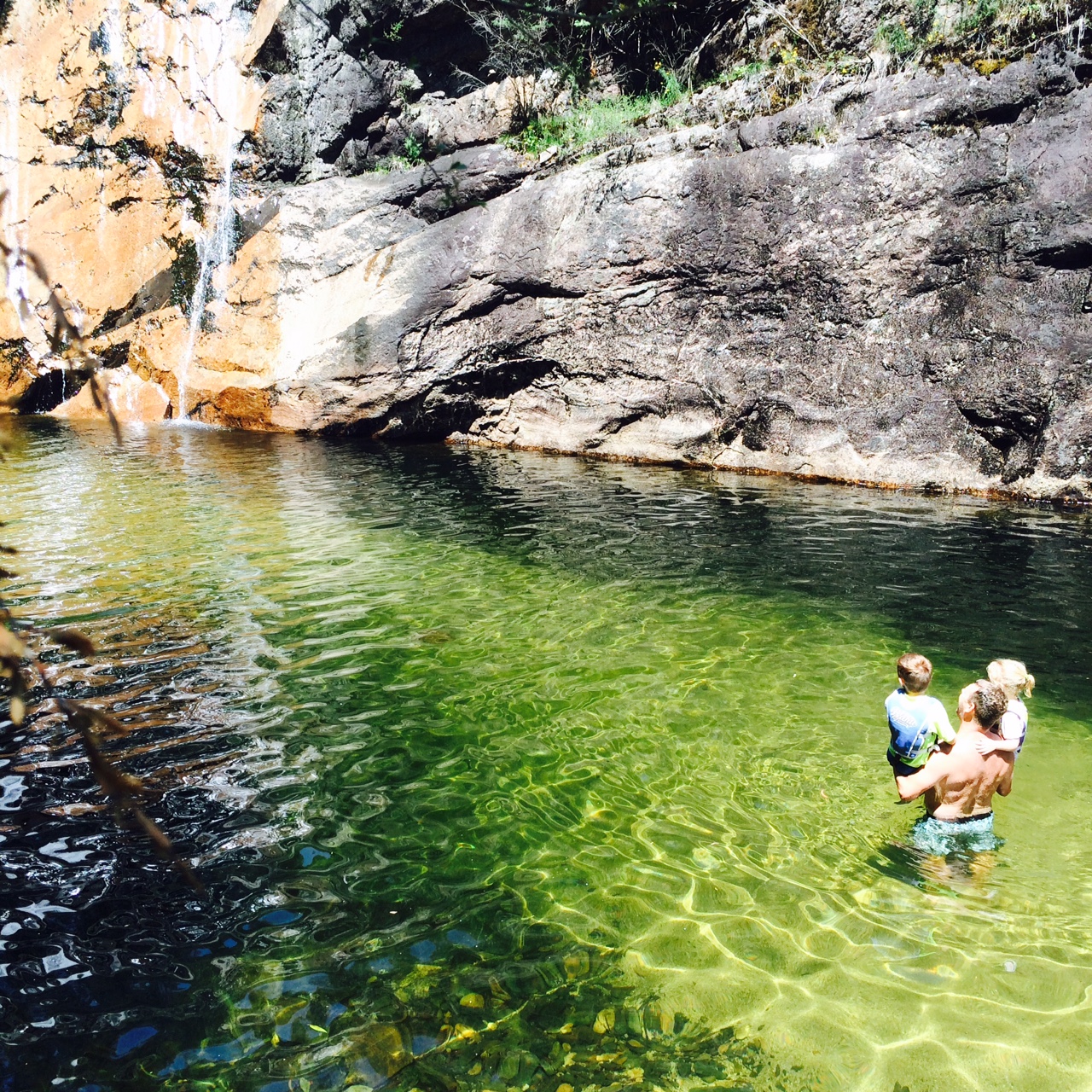 I have linked this baby up with :